You probably already know that most robotics kits are geared towards children and young adults. That's why we made this list of the best robotics kits for adults, so you can find a more age appropriate robot kit with more advanced features and better programing language support.
Best Robotics Kits for Adults
Best Robotics Kits for Adults
The Makeblock DIY Ultimate Robot Kit (Buy Online) is a simple robot project kit, yet it's still challenging enough for an adult. This kit is great for an adult who's just starting to learn about robotics, programming, and electronics. It also has a Bluetooth connection which will allow you to control your creations using a phone that runs Android or iOS.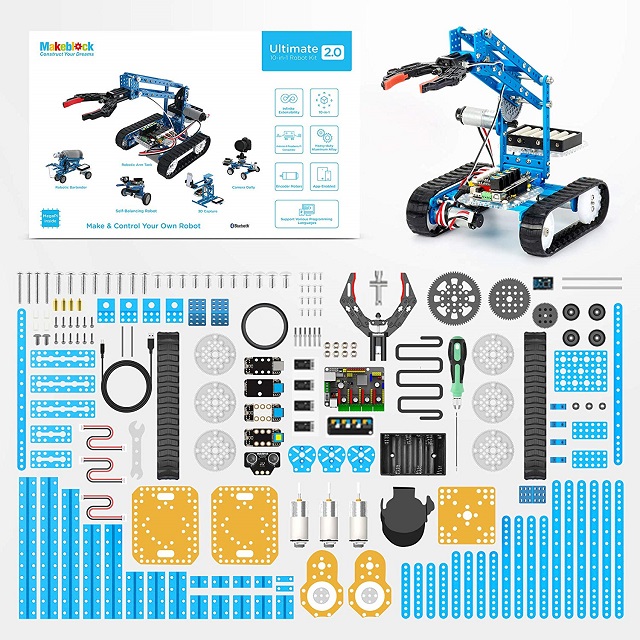 This kit comes with everything you'll need to build 10 different robots. The frame is made of anodized aluminum pieces that are easy to put together and take apart. You also get three powerful encoder motors and a gripper arm. This kit also comes with all the tools and electronics you'll need in the box.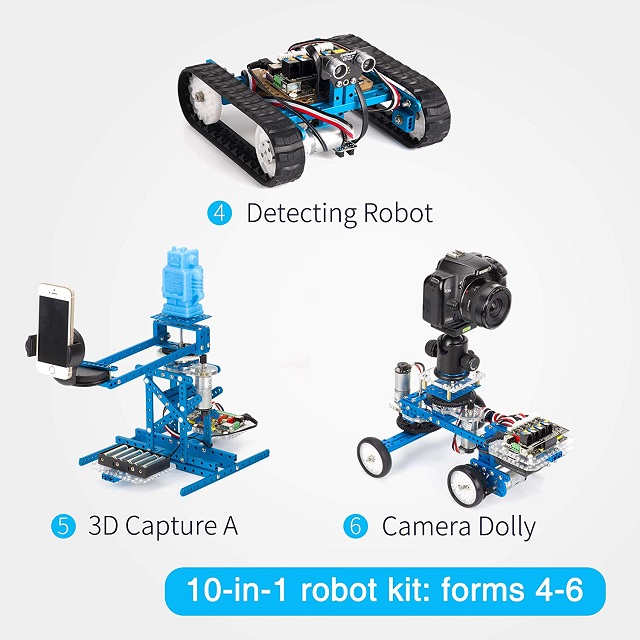 Overall this is a great robot kit for anyone who is new to robotics. It's also quite affordable considering that it comes with everything you'll need to build a wide variety of robots.
Features
10-in-1 Robots

MegaPi Main Board

Bluetooth

Smartphone App

Aluminum Frame

Programming: Python, Arduino, Scratch

6 AAA Batteries (Not Included)
Pros
Very easy to build almost any kind of robot

The gripper arm provides endless hours of fun

Great for beginners
Cons
Limited Python and Javascript support
The LewanSoul xArm 6DOF Programmable Robotic Arm (Buy Online) is one of the most affordable 6DOF robot arm kits on the market. This programmable robotic arm kit is made from high-quality components, and it has a very well engineered design. That makes it one of the best low-cost robot arms you can get for such a low price.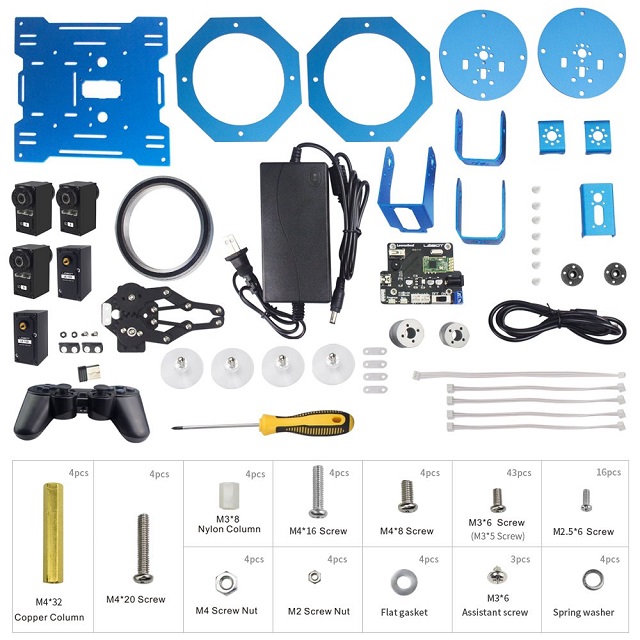 This programmable robotic arm kit comes with 5 LX-15D servo motors that drive each joint on the arm. The servos have metal gears instead of plastic gears which makes them much stronger and more robust. The kit also comes with a controller module that can hold 510 actions in memory to playback at a later time.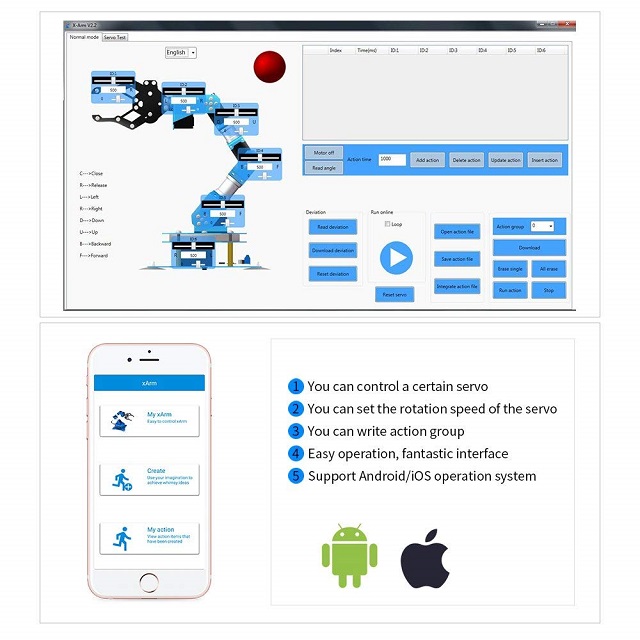 The controller also has a built-in Bluetooth module that will let use a wireless controller to move the arm. You can also program the arm manually by bending the joints by hand and recording the gestures in memory.
You can also get a secondary development package that comes with more sensors that will allow you to expand the functionality of the arm. The expansion kit comes with an Arduino compatible board, so you can easily use widely available "sketch's" to program and add features to the arm.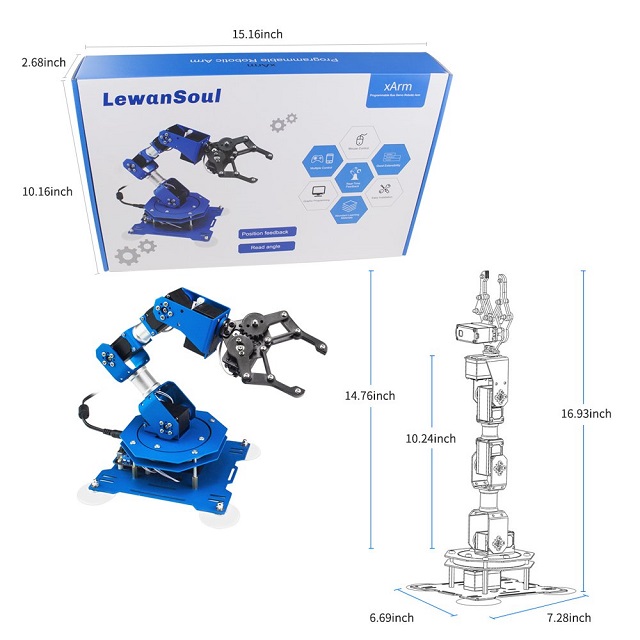 Overall this programmable robotic arm kit is perfect for someone who's always wanted a robot arm but couldn't afford one due to their high price.
Features
Robot Arm 6DOF (6 Degrees of Freedom)

5 LX-15D Servos

CUP Based Controller

Bluetooth

Smartphone App

Arduino Support

18 Degrees of Freedom

Full Metal Construction

7.5-Volt 5-Amp DC Power Adapter
Pros
Full 6 degrees of freedom allows for complete positional control

Manual programming option makes it easy to use right out of the box

Durable construction

Expandable
Cons
The Servo motors can be jerky at times
The ArcBotics Hexy the Hexapod (Buy Online) is one of the more interesting Arduino robot kits since it has a unique six-legged design. This kit is very easy to assemble, and all of its parts are open source. That means if you have a 3D printer you can freely download the plans if you need to print out replacement parts. It's also very easy to program since it supports Python, Arduino Code, and even GUI servo control.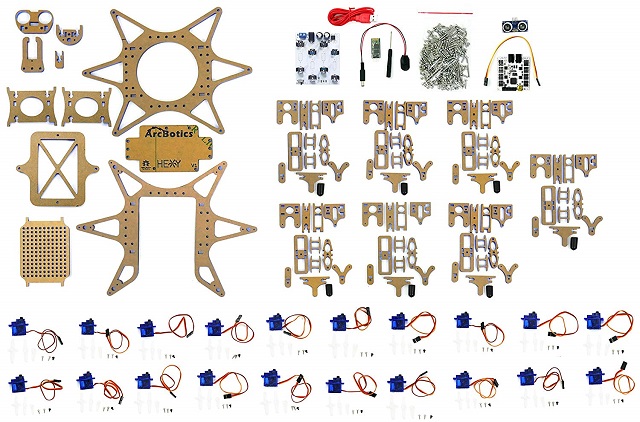 There are 20 servos included with this kit, and it comes with 1 Arduino based Servotor32 robot controller that is capable of controlling up to 32 servos at a time. In addition, this hexapod kit comes with two sets of laser cut acrylic legs so even if one breaks you'll always have a spare. You also get one ultrasound distance sensor that will make it possible for the robot to detect objects and avoid walls.
Features
6 Legged Robot

Laser Cut Acrylic Frame

Arduino Compatible Servo Controller

20 Servo motors

Programming: Python, Arduino, GUI Servo Interface

Spare Replacement Parts
Pros
Easy to assemble using the included guides

ArcBotics offers excellent customer support

The whole design is open source
Cons
The ROBOTIS BIOLOID PREMIUM (Buy Online) is one of the most advanced humanoid robot kits on the market. The Bioloid premium robot kit is perfect for more experienced robot builders who are looking to build a more challenging robot.
The Bioloid premium robot kit comes with everything you'll need to assemble up to 29 different robots. This kit includes a wide range of sensors like a distance sensor and an IR sensor so the robot can sense its environment. The Biodloid robot kit also comes with a gyro to help the robot balance when it's standing up.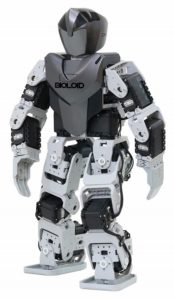 This humanoid robot kit also comes with a Zigbee module that will allow you to send commands to your robot using the included remote control. You can also program this robot using a C-Style programming language by simply connecting it to your computer with the USB cable and installing the RoboPlus software.
If you're looking for an advanced robotics kit then you might want to give the Bioloid premium robot kit a shot. It does cost more than most of the other robot kits on this page, but no other kit will allow you to build such complex robots.
Features
Build 29 Different Robots

Humanoid Robot

18 Dynamixel DC Motors

ARM CPU

Remote Control

18 Degrees of Freedom

C-Style Programming Language

1 Lithium Ion (Included)
Pros
High-quality parts

Linux Support

Detailed assembly instructions

Fast controller CPU
Cons
The Wireless WiFi Robot Car Kit (Buy Online) is a Raspberry Pi robot kit that's perfect for an adult. This educational robotics kit will allow you to build a robot car that you can drive around remotely using your phone.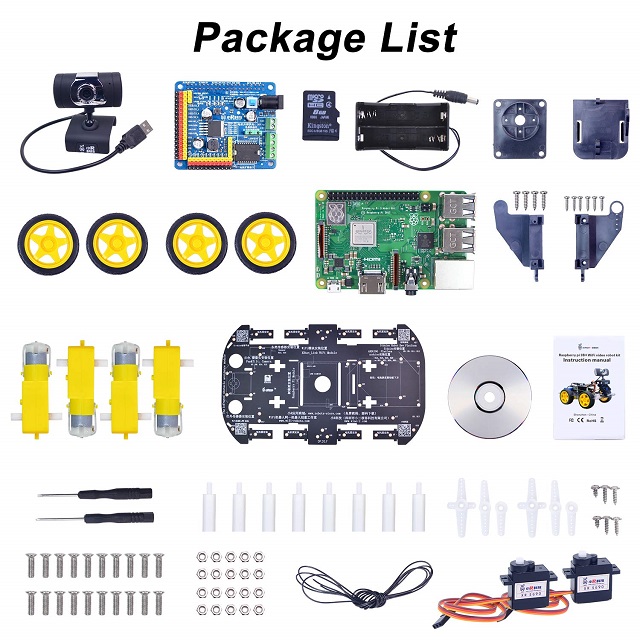 This kit even comes with an HD USB camera so you can cruise around your hose from anywhere using the iOS or Android app. It also has 4 wheel drive, and you can use it outside on rough terrain since it comes with powerful servo motors. In addition, the motor controller is compatible with the Raspberry Pi 3B+ which will allow you to add expansion modules to this robot platform.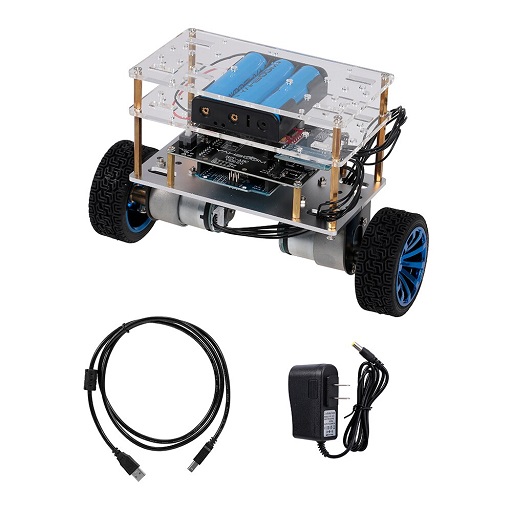 The SainSmart Upgraded Smart Robot Car Kit (Buy Online) is a unique Arduino robot car kit that's fun for both kids and adults. This kit is unique since it is a two-wheel self-balancing robot that can be controlled using an Android or iOS smartphone.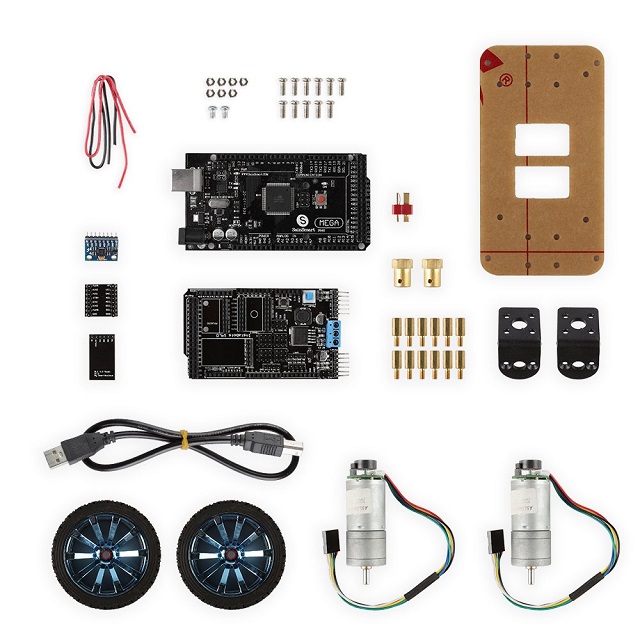 The kit comes with an Arduino Mega board that's small but powerful. It also comes with a motor controller that will control the two servo motors. You also get all the wires and parts you need to assemble it and it even comes with a USB cable which will allow you to program it using the Arduino IDE software.
Overall this is a fun little kit if you're looking for an easy to build a self-balancing robot kit that you can build at home.
Learn How to Build a Robot – Best Robotics Kits for Adults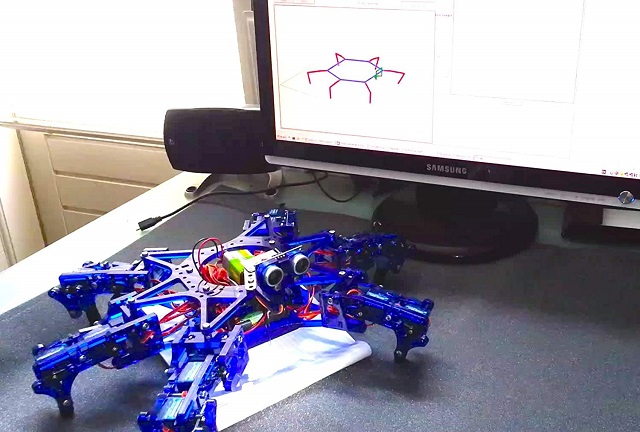 There are a number of methods that you can use to learn robotics even as an adult. In the following sections, we'll go over some of the best ways to learn how to build a robot if you're just starting out, or even if you're just looking to learn more.
Courses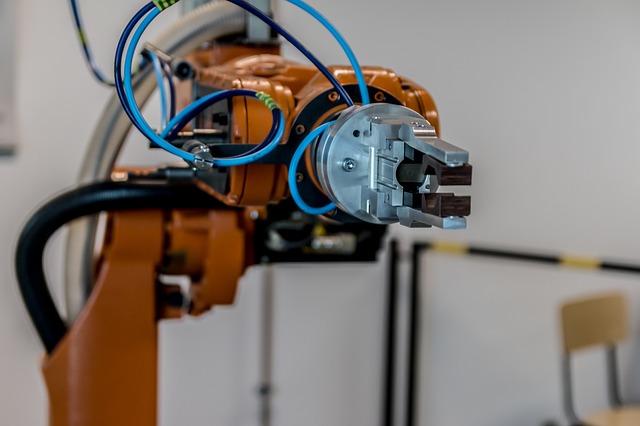 If you're a visual learner you can take an online robotics course (Read our Complete Guide) from the comfort of your own home. The best thing about taking an online course in robotics is that they are taught by real professors from some of the most prestigious colleges that have world-renowned robotics programs.
Most of these courses will even grant you a certificate when you pass the course that you can put on your resume or add to your Linkedin profile.
One of the best online robotics courses is the Colombia University Robotics course on Edx.org (View Course). In this course, you'll learn the fundamentals of robotics, and it even covers how to simulate a robot using Gazebo and ROS (Robot Operating System).
Books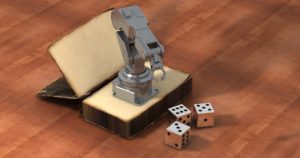 If you prefer to learn the old fashioned way there a wide variety of books on robotics. If you're new to robotics there are plenty of robotics books for beginners (Read More), or if you already have some experience you can get books that go into greater detail on complex topics like robotics engineering.
Books that cover robotics also tend to remain relevant longer than most programming books since the fundamentals of robotics aren't constantly in flux.
That means if you buy a book on robotics it won't be obsolete before it arrives at your door. This is especially true for robotics books that focus on mathematics and engineering, and less so for books that are dedicated to programming languages or software.
Makerspace/Hackerspace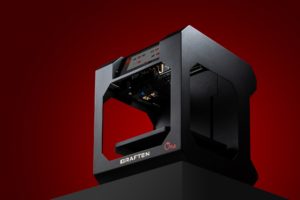 If you're the type of person who prefers hands-on learning then a makerspace/hackerspace is a great option if you're lucky enough to have one near your home. A makerspace will also have all the tools and equipment you need to build a robot, which is really nice if you're just starting out and don't have that many tools of your own.
Makerspaces are also great places to exchange ideas, and you can get help from other members if you ever have trouble building your robot. To become a member of a makerspace you'll usually need to pay a monthly fee, but it's well worth it since you'll have access to equipment like 3D Printers (Best 3D printer for Robotics ), and CNC machines that most people couldn't afford on their own.ddd