One of the most vital aspects of designing robots is choosing the right CAD software that suits your needs. There are many different types on the market today; some are general-use software suites while others focus specifically on industrial or architectural applications. In this article, we will go over the best CAD software for robotics available today from professional cloud-based platforms to open-source programs that are completely free to download.
Best CAD Software for Robotics
SolidWorks
SOLIDWORKS is the best CAD software for robotics because it includes all the tools necessary to accelerate the design and development process – from concept through production.
SOLIDWORKS software is the industry standard in 3D design for engineers and designers across industries worldwide. This CAD software helps you rapidly innovate by bringing greater speed of idea generation with more efficient collaboration between teams of any size or location on any device—all while reducing errors and time to market.
The intuitive 3D modeling software allows you to conceptualize ideas faster than ever before so that you aren't wasting time with long-drawn-out brainstorm sessions or designs that are too complex to understand or manufacture.
By creating fast accurate models of parts and assemblies using SolidWorks, designers can spend more time validating their ideas which leads to better products at lower costs during development phases as well as manufacturing stages.
Plus, with SolidWorks' data management tools team members can stay up-to-date on changes being made during each step of the design process.
And SOLIDWORKS makes it easy for everyone involved in a project to visualize their designs with intuitive use of all of the built-in smart features like direct editing tools that allow users to directly manipulate geometry without having to learn complex commands.
Overall, if you're looking for a professional-grade tool that's used by small robotics development teams along with large corporations and governments then we highly recommend that you try out SOLIDWORKS (Free Trial)
OnShape
OnShape is a cloud-based, browser-only solution that's simple to use and affordable for everyone, from small startups to large enterprises. It changes the way you design products by bringing together all of your team members in one place so they can work faster, smarter, and more efficiently than ever before.
Onshape makes it easy for anyone on your team to contribute ideas about product design without being an expert in CAD software or even having access to a computer with CAD capabilities. It also allows every member of the team to see what others are working on at any time – whether they're across town or the globe – eliminating confusion over who needs help finishing their part first or which version of a drawing has been approved by management as final.
Autodesk Fusion 360
Fusion 360 helps you design complex robots by including features that make it easier for you to model 3D objects, and edit existing designs or models directly within this fully integrated CAD + CAM software tool. This cloud-based platform also offers generative design tools that let you create infinite variations of your designs without having to start from scratch each time.
Fusion 360 even helps designers reduce their costs by eliminating mistakes during the early stages of development using its simulation capabilities before any physical prototypes are built. Also, this cloud-based solution makes it easy for anyone in your team to work together on projects so all members can stay informed about changes even when they are working remotely which reduces errors and speeds up the design process tremendously.
Autodesk Inventor
Autodesk Inventor simplifies the design process by putting advanced tools in an intuitive interface that lets you focus on what matters most – your design. With this CAD software, you'll be able to see how things will fit together before they're made and make decisions faster which leads to better products.
Best of all, Autodesk Inventor makes it easy for anyone with an idea or concept that needs to be prototyped or manufactured (even if you don't have any technical skills) turn their ideas into real-world objects without having them spend years learning complicated computer programs like Solidworks or AutoCAD.
This means that even people with no experience can be empowered to take their ideas from concept through production using one program without having to overcome a steep learning curve.
FreeCAD
FreeCAD is a free, open-source parametric 3D CAD modeler made primarily for mechanical engineering and product design but also fits in a wider range of uses around engineering, such as architecture or other engineering specialties.
FreeCAD features tools similar to Catia, SolidWorks, or Solid Edge, allowing complex assemblies to be modeled quickly and intuitively. And FreeCAD's powerful scripting language allows the user to extend the functionality of FreeCAD with custom modules written in C++ that can interact with the full power of the built-in Python API.
This makes it possible for users not only to make drawings but also fully interactive 3D models which can be exported into common formats like STEP or STL (STereoLithography), ready for 3D printing on any machine shop equipment or online service provider like Shapeways.
SolveSpace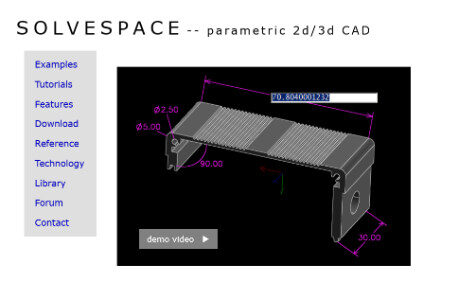 SolveSpace is a free (GPLv3) parametric 3D CAD tool that's easy to use for beginners but powerful enough for advanced users. And it is very simple to use, and you can quickly get up to speed and start drawing with extrudes, revolves, helixes, and Boolean (union/difference/intersection) operations.
You can also model 2D parts as single sections or use the 3D assembly feature to verify fit before printing your models on a 3D printer.
The goal of SolveSpace is to be useful for both hobbyists and professionals. And the developers are constantly improving the user interface and feature set based on feedback from people like you who want an intuitive design experience without having to spend years learning how it works under the hood.
Solid Edge
Solid Edge is an easy-to-use CAD software for Robotics. It's not as expensive as Autodesk Fusion 360 or the complete Siemens NX platform, but it still offers most of its capabilities. And if you want to build robots using a full-featured 3D modeling software tool then you can get by using only Solid Edge.
With Solid Edge, you can design your robot quickly and easily with direct modeling tools that let you create parts without having to do a lot of setup work first. You also don't have to worry about synchronous technology slowing down your workflow either because it runs at an incredible speed compared to other CAD programs in the same price range.
Creo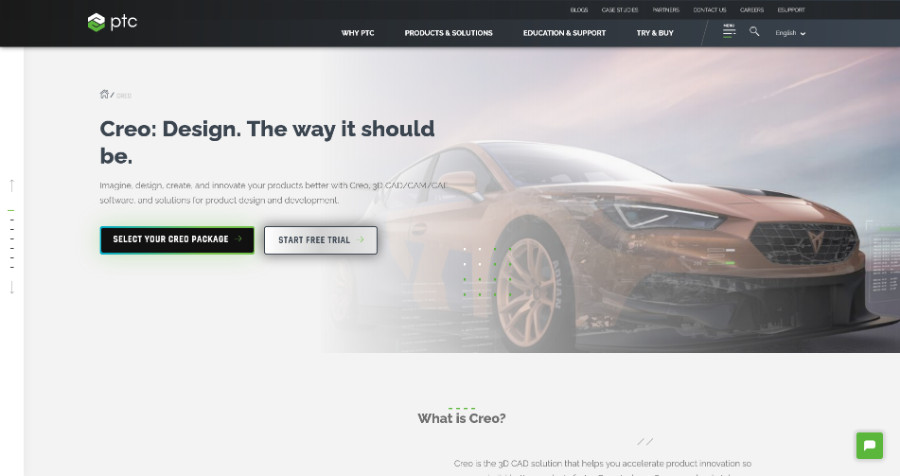 Creo is an easy-to-use 3D CAD solution that brings together powerful tools and technologies so you can iterate faster and build better robots. With its unique combination of innovative technology and proven features, it's easy to learn and use – even if you've never used a CAD system before – which means more time designing great finished products instead of learning how to use CAD software.
Siemens NX
With Siemens NX you can design parts quickly with a combination of parametric modeling tools and direct editing capabilities or by importing data from other CAD systems. You can also run simulation-based designs to optimize your part performance before manufacturing.
The NX modeling technology platform uses generative design techniques to speed up this process by automating some steps in creating new designs based upon existing designs that already work within certain constraints.
By using these techniques, designers can quickly generate hundreds of new designs to choose from with less overhead than spending time manually designing each one individually, which takes much longer and costs more money because it requires paying for labor hours every step of the way.
Overall, when engineers use the NX platform they can make better use of their limited work hours, saving stakeholders both time and money while improving quality through increased creativity via a fully integrated iterative design process.
Shapr3D
Shapr3D is the best CAD software for robotics because it's easy to learn, fast to use, and affordable. You can get started in minutes with the intuitive interface that has all of the tools you need to design any kind of robot.
With just a few clicks you'll be able to create functional prototypes that are ready for manufacturing or testing. And you can import and export your designs into SOLIDWORKS or any other CAD program so you can take them from concept through production in a multiplatform collaborative process.
nanoCAD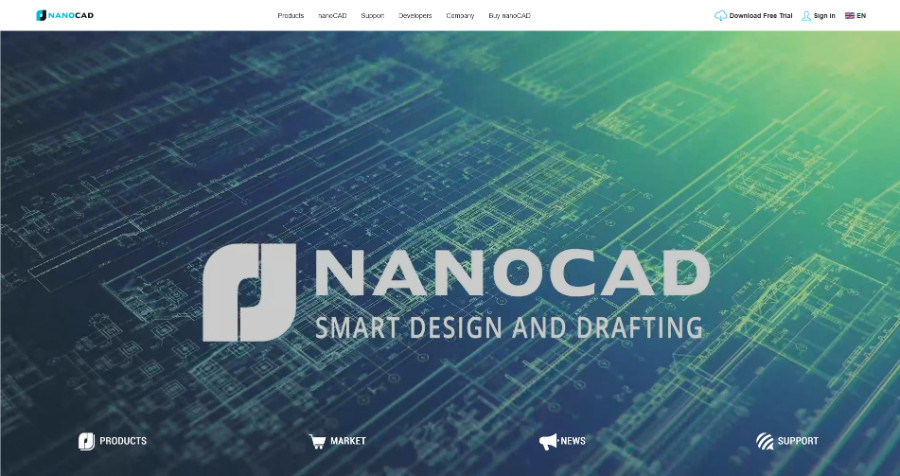 nanoCAD Plus is the best choice for designers who need a professional CAD solution with an easy learning curve, friendly price tag, and all the tools they need to create 3D models of any complexity.
nanoCAD is a professional CAD software with a familiar interface, powerful drafting and design tools, DWG compatibility, and an open API. It supports so-called 'ribbon' and 'classic' user interface styles, and it can read and write very old legacy DWG files along with the newest DWG files and it serves as a robust platform for third-party addons.
OpenSCAD
OpenSCAD is the best CAD software for making 3D models of robots and other mechanical parts because it's free, open-source, and cross-platform compatible. It runs on Windows, Mac OS X, and Linux operating systems so you can use your favorite computer to create high-quality designs with ease. And the community is always working on adding new features, and you get all this at no cost.
LibreCAD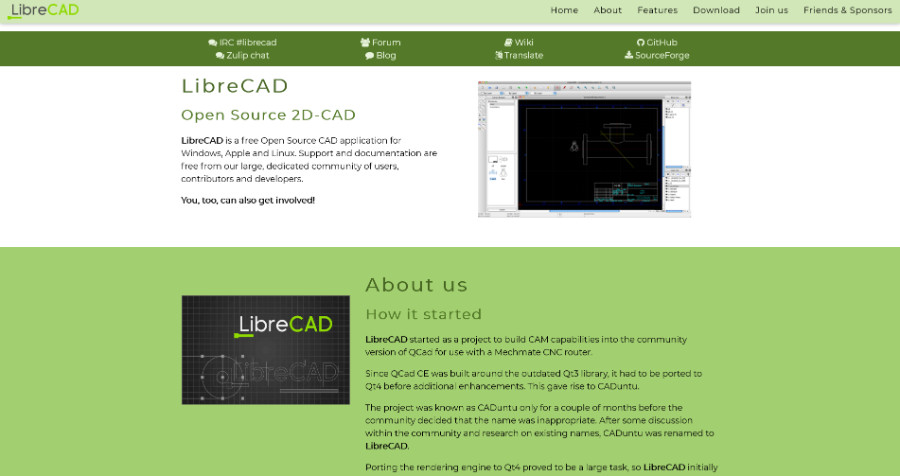 LibreCAD is completely free – there are no trials, subscriptions, or license costs. The open-source development model means they have an awesome community working together to improve their software every day. And you get access to new releases as soon as they become available without having to wait for annual updates from other companies who charge hundreds of dollars per year just for maintenance.
Rhino
Rhino makes it easy to design complex parts for 3D printing, CNC machining, or rapid prototyping. It has the accuracy needed for engineering and manufacturing jobs of any size, yet is simple enough for anyone to learn quickly.
With Rhino's easy-to-use interface even beginners without any previous CAD experience can start creating designs right away. However, if you're already familiar with other similar programs such as SolidWorks, AutoCAD or Inventor then transitioning into Rhino will be a breeze.
Tinkercad
Tinkercad is the first web-based tool that makes it easy for kids to design and create robots using simple drag & drop commands. This software empowers everyone with the foundational skills needed for innovation in multiple STEM fields including 3D design, electronics, and coding.
By combining three powerful technologies (3D printing, electronics, and programming), Tinkercad created a new way for people to learn how things work by tinkering with them in real life.
This online platform offers hundreds of free projects where you can practice your skills on anything from robots powered by Arduino boards to solar cars made out of LEGOs or even custom robot designs.