If you're looking for a new podcast to listen to, then this post is for you. We have compiled a list of the best robotics podcasts available on Google Podcasts, Spotify, Stitcher, and iTunes. From interviews with world leaders in robotics to discussions about the future of robots in society, these podcasts will keep you informed on all things robots.
Best Robotics Podcasts
Crazy Hard Robots – Podcast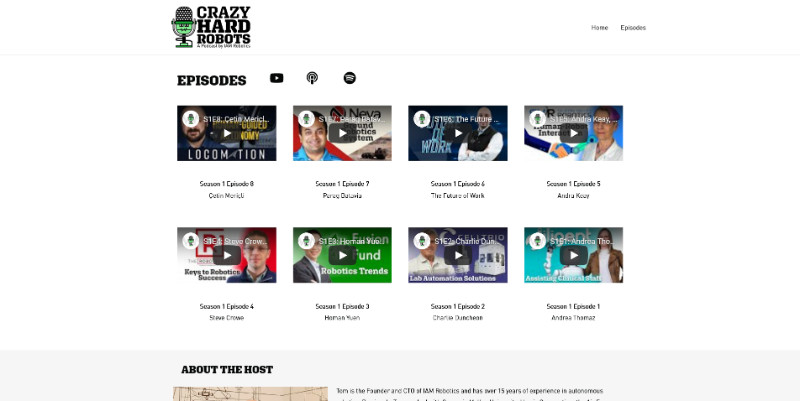 The Crazy Hard Robots Podcast takes listeners on a journey through the world of robotics, from current trends, potential uses, and misconceptions about robots, Plus, Crazy Hard Robots publishes new episodes frequently so you can stay up to date with all the advancements in robotics and explore innovations that we may see in the near future.
The Robot Report Podcast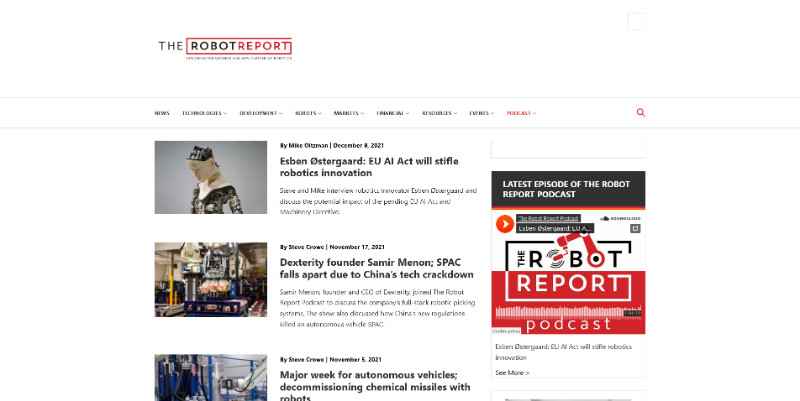 The Robot Report Podcast is perfect for anyone who wants to keep up with the latest developments in robotics. Each week the hosts interview leaders from top companies and universities so that you can learn directly from them about their work, projects, and ideas. And when you listen to this podcast you'll also get to hear expert analysis of new and exciting robotics startups releasing products around the globe.
Let's Talk Robotics – Podcast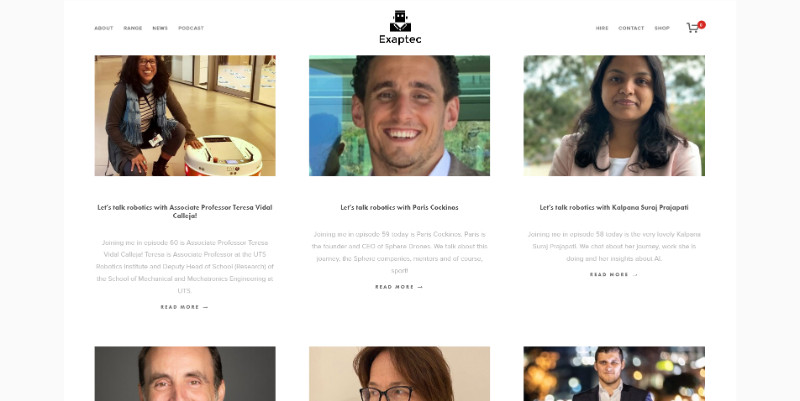 With Let's Talk Robotics you'll get to hear from some of the top experts in Australia and learn what it takes to build a successful robotics business in the southern hemisphere. The hosts of Let's Talk Robotics produce episodes on a regular basis with industry leaders where they cover everything from how they got started, their challenges, and where they see things going in the future.
Soft Robotics Podcast

The Soft Robotics Podcast is the first dedicated podcast covering topics related to (soft)robotics technology. In each episode, they interview guests from academia and industry where they discuss their latest research along with highlighting the challenges in bringing soft robotics systems to market.
Rise of the Robots: A Battlebots/Robot Wars/Techno-Games/Robotica Podcast

The Rise of Robots Podcast offers interesting and entertaining interviews with top experts in the field of robotics. This podcast also covers all of the major robot competitions like Robot Wars and Battlebots.
Robot Talk – Best Robotics Podcasts

The Robot Talk Podcast explores the latest in robotics and autonomous machines with leading scientists from across the UK. They discuss how robots will change our lives for better and worse, what it's like to build them, and where we're headed as a society when AI becomes more commonplace.
You'll hear about everything from self-driving cars to robot ethics on this weekly show hosted by Dr. Claire Asher. Each episode covers topics such as artificial intelligence (AI), machine learning, human-robot interaction (HRI), drones, space exploration, telepresence robots, and many more fascinating areas of robotics research.
The Robot Brains Podcast

The Robot Brain Podcast covers the future of artificial intelligence and robotics. This show will give you a glimpse into what's happening in the world of AI, machine learning, neural networks, and other related topics. In each episode, Pieter Abbeel interviews experts in various fields relating to AI and robotics, from startups producing real products to the theoretical and ethical dilemmas surrounding the field of robotics.
The Roboticist Chronicles – Podcast

The Roboticist Chronicles Podcast will help you learn more about the latest trends in automated systems, how they can improve your life, and how robots affect our future as humans in space and on planet Earth.
The ROS Developers Podcast

The ROS Developers Podcast is a podcast dedicated to interviewing people working with ROS on real-world robotics projects, from NASA's Robonaut telepresence robot to commercially viable robots, and more. Plus, this podcast also covers some of the basics of ROS development and the progress of the ROS open source project.
Robotics Through Science Fiction – Podcast

Robotics Through Science Fiction is all about learning more about the history, impact, and future implications of robots through the lens of science fiction. Each episode discusses important topics such as artificial intelligence (AI), machine learning, autonomous vehicles, and other emerging technologies that may impact us in the near future.
The Robot Podcast

The Robot Podcast is the best place for anyone interested in learning more about technology and automation. Every episode features a panel of experts discussing important topics related to robotics.
The Cogcast, Hosted by Cogmation Robotics – Podcast

The Cogcast is a podcast designed for everyone from experienced roboticists to STEAM students who are just developing an interest in learning more about this exciting field, so this podcast has something for everyone. Each episode features interviews with industry experts as well as discussions on current events related to robotics and AI development.
Robotics for All Podcast by AV&R

The Robotics for All Podcast features interviews with leaders in various fields of robotics including open source robots, 3d printing, robotic surgery, and more. These interviews offer insights into how these technologies are being used today as well as what exciting applications might come next.
This Is Robotics: Radio News

This Is Robotics is a weekly 30-minute compilation of news and interviews from around the world that bring together all aspects of robotics into one place for your convenience. You'll discover who's doing what where, how much they're spending, which companies are merging or being acquired, and even some political implications about the future of automation in this ever-changing field.
Bot Bytes – Podcast

Bot Bytes covers everything from how to get started with robots to scaling up your business using robotic software or services. If you're interested in learning more about this exciting industry then check out the Bot Bytes Podcast.
Robohub Eindhoven (English version) – Podcast

The Robohub Podcast is an independent podcast hosted by a group of passionate engineers who love robots and AI. The goal of this podcast is simple, give listeners access to the very latest news and interviews with some of the most interesting people working in this space today.